Happy Monday to you all! It's time to get back into chipping away at the workweek ahead. We're only 8 days into the new year and that means that anyone who has made any New Year's diet or fitness resolutions should still be on track… right? If you are still on par with your resolutions, that's excellent! Keep up the great work! If you find yourself struggling to keep it going, don't give up. There are plenty of ways to get back on track. Here are some ways you can sync back up with your diet or fitness resolutions.
Diet

---
Make a grocery list every week and lay out what your meals will be. Not only will this save you frustration on figuring out what you're having for dinner, but it'll save you money, which leads to…
Setting a price limit for your grocery shopping. That way, you can stick to your list and not purchase on impulse.
Stray away from the inside aisles at the grocery store. Most of the fresh foods are found around the perimeter of the store.
Try to limit how many times you go out to eat or order takeout.
Buy some cookbooks or find some recipes online for healthier meals. Don't be afraid to try something new.
There are also online meal kit delivery plans that you can sign up for like Hello Fresh or Blue Apron to help with meal prep/portion control as well as adding in something new to your meals. I have never tried this option, but I've heard good things about each one.
When prepping your meals, pay attention to portions. When Jessie and I were losing weight we realized that we were eating almost double the amount of food because we didn't check the portion sizes.
Last but not least, eat more fresh fruits and vegetables. Find out what's in season and grab what you can. Sometimes they can be found in the frozen section and are just as fresh if not better than what's sitting out on the shelves at your store.
Fitness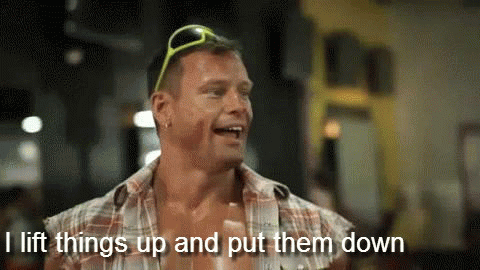 ---
Compose a list of your fitness goals and post it on your fridge or bathroom mirror. This way your goals are staring you right in the face.
Have a friend, spouse, or even neighbor help hold you accountable for your actions if you stray away from your resolution. They are there to help guide you.
If you sign up for a gym, make sure it's one that suits your needs. Don't dive into one because the price is right.
Catalog your workouts using phone apps or dare I say excel spreadsheets…? Which ever one works for you.
Try to go for a walk during your lunch break or after dinner. You not only get fresh air, but you get in a little exercise as well.
If you have numerous fitness goals, try to categorize them if you can or group them together so your list doesn't seem to daunting.
Don't expect miracles to happen overnight. Getting that "beach bod" takes time, so don't be upset when you don't see results within 24 hours.
Laslty, have fun! Fitness doesn't have to be all work and no play. It's better when you enjoy what you're doing.