Happy Friday Everyone! I hope you all had a stellar week and are ready for the weekend like I am. Although there's no football this Sunday, so that leaves a bit of a damper on the weekend, but fear not there are plenty of other things to do this weekend! Let's hop right into this weeks TGIF Feels.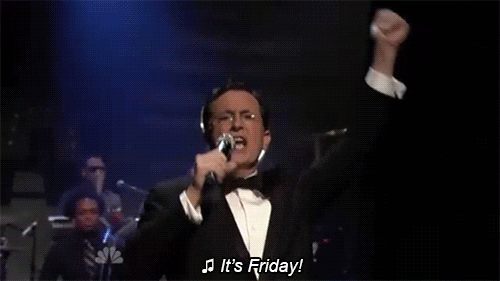 This weekend is going to be a little different from the past. Not so different as in working out, but as to the way I track my workouts. I feel like I've been out of the loop when it comes to certain running apps. I've either used the Map My Run app, the Nike + Run Club app, or the Apple Watch activity app on my watch to track runs and see stats / splits. I've never truly explored the Strava app, but I've heard good things about it. It's the social media app for runners and I haven't taken advantage of it. Well, this weekend that changes. I'm going to join thousands of other runners (and cyclists) around the world in tracking my workouts. I'm looking forward to meeting up with more runners and clubs around my surrounding areas as well as when I travel. This will also give me the opportunity to find more routes to explore and chances to see some amazing views. I'm super excited about this and I can't wait to get started!
This weekend also will include some much-needed stretching (yoga), foam rolling, and active recovery. My muscles have been a bit sore this past week from Crossfit. The 2018 Crossfit Open is coming up in a few weeks and I'm trying to get in some more strength workouts. I'm getting stronger every day and I love challenging myself at the gym, but man these workouts have been tough. I love it though because it works other muscles in my body that running wouldn't. I feel like all of the workouts we do are making me a more well-rounded athlete, which is exactly what I want.
After my morning crossfit class on Saturday and my long run on Sunday, I'm looking forward to some down-time with friends. There are few chores that need to be accomplished at home as well as getting more items ready to donate. I've recently been donating items that I either don't use or wear anymore to the American Red Cross. Decluttering my life has been a very eye-opening experience and it's also for a great cause. I'd like to think that moving away from the physical "stuff" in my life and replacing it with experiences is beneficial to our lives.
That's all I have for today folks. I hope you have a splendid weekend! Do you have any big plans or starting anything new? Sound off in the comments below. I hope to see you on Strava!