I think it's safe to say that most runners have difficulties packing for race day travel. I know I do. I always pack up everything I need in my duffel bag, then take it all out just to pack it up again. There have also been times where I've packed all my gear for a race that was only a couple of hours away and it looked as if I were packing for a weeks worth of travel. Stuffing everything into a duffel bag and hoping it doesn't burst at the seams is not the way to go, because I've tried it. There has to be a balance for the things that need to be in your bags. You don't want to over pack and try to "shoe horn" everything into a carry-on bag, but you also don't want to under pack and realize when you get to your destination you've fogotten something as simple as your running shoes. It doesn't matter if your race is a couple of hours away or hundreds of miles away, packing always seems to be the most time-consuming and stressful part. It's best to plan ahead for these occasions, so why not start with a simple checklist to insure that you're bringing all of the right gear. Here are some of the items that I typically have packed for travel races.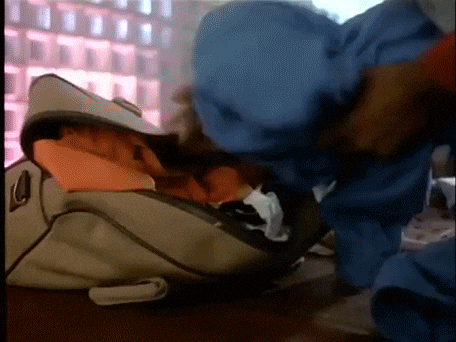 Shoes:
These are the single most important item on the list. These should be the first thing packed in your bag not only because you need them to run, but they are the heaviest item and most awkward to pack. If you're limited on space, wear your running shoes to the airport or while driving to insure you have them.
Lacrosse Ball:
I usually carry this little guy for massaging soreness in my glutes, back, or hamstrings pre or post race. This can also help with loosening up tight areas when taking long flights or car rides.
GPS or Watch:
This seems like an obvious item to have in order to track your splits, route, or just to check the time. Your best bet is to wear it. In the event you have two watches (a fancy one and a sports one) pack the sports one into your running shoes. That way you'll have both your shoes and watch at the ready, although your watch may smell a bit.
Headphones:
If you're a runner who enjoys listening to music while traveling and running, these are also a must. Most headphones come with a travel case so these can easily be tossed into your bag.
Phone, Armband, and Chargers:
These go hand in hand with headphones as you'll need a source of music and something to power them up. Since your race is going to drain your phone and watch battery life, it's a great idea to have these chargers in your bag. If you have an armband, you can not only carry your phone, you can also carry your ID, cash, credit cards , or in some cases your keys.
Body Glide or Anti Chafing Lotion:
Every runner should have this in their bag. Even if you don't experience chaffing in certain areas, there could be that one place that becomes a trouble spot. Better safe than sorry. Ouch!
Sunglasses:
These can be very helpful for morning races as the sun rises. The last thing you need is to be squinting while running risking the chance of tripping on something or someone.
Empty Water Bottle:
It's always important to stay hydrated for the big race, so adding this to your bag is important. An empty water bottle keeps your bag lightweight for travel. You can fill this bad boy up in the airport terminal after your security check.
Energy Gels or Shot Blocks:
If you're running a race for longer than 45 minutes, then these should be with you. Refueling during a race is important for your body. Since these are smaller in size, pack a few extra. Sometimes expos have these, but they could cost you more money.
Shorts, Shirt, Socks:
These should be the second group of items tossed into your bag. Make sure you're picking items to wear that you have run in before. Don't try anything new on race day as that can cause all types of issues. Also, no cotton! Check out my post on what to wear for specific temperatures / weather conditions here.
Light Wind/Water Resistant Jacket
You never know if the weather will suddenly decide to not cooperate before or during your race. It's also good to have something for any unplanned hikes (if you feel adventurous) that'll keep you dry if it rains a little. That's why I never leave home with out my Patagonia Houdini jacket. It's very lightweight, wind/water-resistant, and packs up into its own small pocket.
Extra Long Sleeve Shirt or Tee Shirt, Socks:
I always have an extra pair of socks and shirt for post race reasons. I'm not a fan of walking around with a sweat drenched shirt, especially if it's on the cooler side because your body will cool down rapidly. Any type of compression socks or pants can help to aid in blood flow during your flight or even post race.
Ibuprofen and Tiger Balm Ointment:
I pack these with me because you never know if you're going to have any aches or pains while traveling. These don't take up a lot of space and can easily be placed with your other toiletries.
Plastic bag:
This comes in handy for wet/dirty clothes. It keeps everything separated in your duffel. You can also throw in a dryer sheet to keep the smell at bay, for a little while that is.
Other important items:
Wallet with ID, cash, and credit cards
Race Bib and safety pins (unless picking up at an expo)
Plane tickets
Course map
Hotel confirmation
Toiletries (tooth-brush, toothpaste, deodorant, etc.)
Band-aids and/or moleskin
Casual clothes and shoes
Pre-race breakfast such as granola or energy bar
Some type of reading material
When in doubt, pack then re-pack. What important items do you take with you for traveling races?