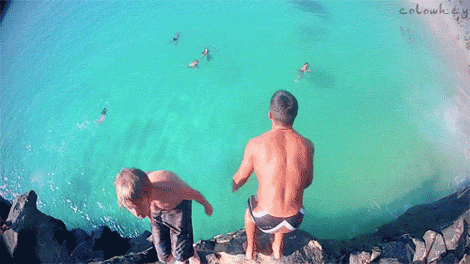 Unless you're a robot, most of us take some sort of vacation. Whether it's at the beach, overseas, or even in your own home (also known as a staycation) you take that time to get away and relax, or at least try to. Going on vacation shouldn't limit what you do to workout though. As an athlete, your workout schedule may be altered a little bit just because you'll want to catch the sunrise on your run on the beach or you'll want to make that 7am yoga class. Depending on your location, you may want to try something else. There are numerous options available; you just have to know where to find them. Here are some ways you can get the most out of your workouts while on vacation.
Go exploring
---
Find a running trail, park, or beach to get the lay of the land on foot or bike. There's nothing like taking a stroll on the beach barefoot to make your vacation even more relaxing. Walking or running on the beach not your thing? Find a local bike shop and tour the area that way.
Meetup
---
If you're flying solo or just want to meet up with a new group of people, the social media app Meetup is a great place to start. You can find different types of gatherings for all types of activities. It'll keep things interesting and you'll get a chance to meet with some locals.
Pump it up
---
If you're into working out to the extreme to test your limits, check out some local crossfit gyms. Most boxes have drop-in fees from $10 – $30 (with a t-shirt) and plenty of time slot options. No need to miss out on a day of crossfit while on vacation.
Breath deep
---
If you truly want to relax and stretch it out, search for a local yoga studio. This is a great way to take in a few deep breaths and slow things down while on vacation. This is also great if you go somewhere tropical and sign up for a sunrise yoga class. Totally worth it!
Just keep swimming
---
If your hotel has a pool or if you're at the beach, go for a quick swim. Diving into cool water in a hot environment is incredibly refreshing and you burn a few cals while doing so.
Something to remember while on vacation is that your workouts don't have to be sacrificed if you don't want them to. Make the most out of your vacation, but also add in a few exercises if you are willing to and have time; it is vacation you know. It may make you may feel better about eating that ice cream for dessert the night before. I know I do.